The EpiPredict training in general
EpiPredict provides (i) project specific local research project related training, (ii) tailored network training and (iii) international network independent-training, to 12 Early Stage Researchers (ESRs) covering research-specific and soft skills in an interactive (e-learning, website discussion-platforms, online Journal Club), individual (host-based, secondments) manner. Local and network-specific training (workshop, course, secondments) from beneficiary/partner organizations (academic/industrial) are mutually recognized as integral part of ESR training acknowledged by training certificates registered at the host Universities assigning European Credit Transfer System credits. (ECTS).
EpiPredict trains the next generation of young supradisciplinary scientists to tackle complex clinical questions and develop tools for personalized diagnostics/treatment, an innovative training aspect.
EpiPredict research training connects prestigious EU research groups involved in epigenetics/metabolic/breast cancer resistance/computational biology with the private and socio-public sector partners providing high quality training enforcing a major impact on the breast cancer (drug resistance) research field in the EU.
EpiPredict provides research training in fundamental/clinically relevant research using multidisciplinary techniques reinforcing the importance of a holistic (systems medicine) view, an innovative training aspect.
EpiPredict includes 2 beneficiary/2 partner organization SMEs ensuring important exposure of ESRs to the private sector (secondments, collaboration, courses/workshops, ER employment, training) and joint academic-industrial PhD supervision, providing innovative academic-industrial training programmes.
EpiPredict research-training involves collaboration of East-EU (Hungary), South-EU (Italy) and West-EU countries ESRs contributing to EU mobility.
EpiPredict offers intersectorial training providing complementary/transferable skills, i.e. (international) project management, communication (present, write, think outside of the box) with academic, private and socio-public sectors, technology transfer, IP rights, internationally recognized management systems, entrepreneurship, public debating and reaching out to the public, which is an innovative training aspect.
ESRs enter high-quality PhD programmes having computational/wet lab-based research projects combined with lectures/seminars. Obligatory complementary skills lectures are comparable for all partner universities whereas lab-based training varies according to local profiles and to the needs of specific projects.

Outreach
Outreach activities will ensure that EpiPredict results are made known to society at large raising awareness of this research and Marie Curie Actions. To promote public understanding of science, the ESRs will communicate and disseminate research findings to the widest audience.
EpiPredict Outreach addresses four goals: (A) create awareness among the general public about EpiPredict research and its implications; (B) introduce students from schools/universities to EpiPredict research/innovation; (C) investigate the public perception regarding personalized medicine/related individual-based (epi)genetic data storage, security and privacy issues; (D) communicate EpiPredict objectives, activities and outcomes throughout EU and further.
The EpiPredict Science Cafés:
The first EpiPredict Science Café was held in Heidelberg 26 February 2017 "Applying epigenetics in breast cancer treatment". Flyer.
The second EpiPredict Science Cafe will be held in London 14 December 2017 "Imperial Science Cafe, Breast cancer research: Resistance to therapy and epigenetics, Q&A with the EpiPredict researchers". Flyer.
The EpiPredict Blogs: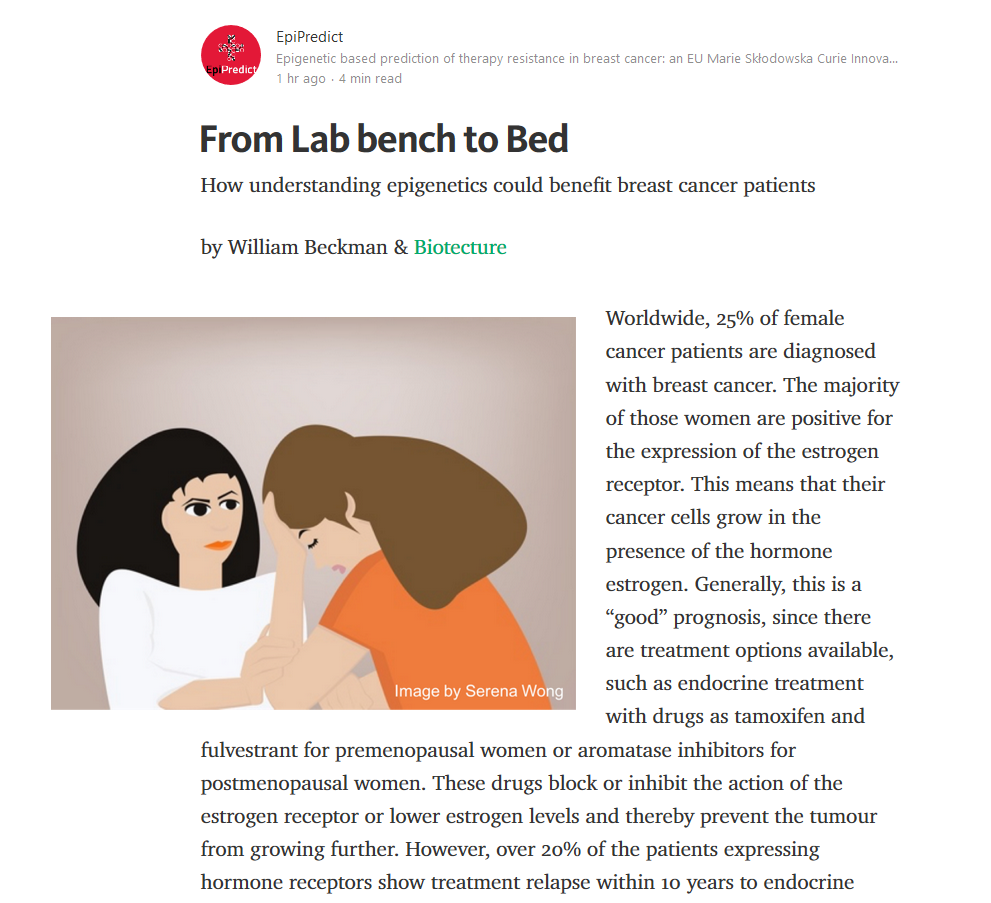 Dissemination
All Partners are fully committed to disseminate (according to the open-access policy of the EU) their scientific data obtained through the EpiPredict joint research training. See here for the publications...
The EpiPredict meetings: